Podcast: Play in new window | Download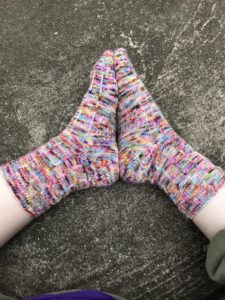 FOs
Somer
Knitting

Hidden Gusset mitts

by Mone Dräger in Sweet Georgia Tough Love Sock in "Snap Dragon"

Pay Day Socks by Leah Oakley in Unwind Yarn Company Journey Sock in "Lake Frances Sunrise"

Spinning

2 Guys Yarn Wensleydale in "Shortcake"

Shirsty Cat Designs Merino/Tencel
Active WIPS
Somer
Knitting

Distract Me sweater

by Amanda Woeger in Suburban Stitcher Sock in "Slate Blue" and "Rivers Edge"

Vanilla socks using Elemental Fiber Works Polwarth/Silk/Mohair in "Venus"

Garter Rib Socks from Sock Architecture by Lara Neel in Unwind Yarn Company Journey Sock in "Bluffs"
Katie
Free Your Fade

by Andrea Mowry. I am using Miss Babs Kaweah DK.

Bankhead hat

by Susie Gourlay in malabrigo worsted in hummingbird

Crochet temperature blanket – granny squares – each round is a day, so 52 squares. Will make 4 extra squares to have 56 – 7×8. I am using a box store worsted in 8 colors.  Up to 26+ squares. I am using

this method

to join the squares together.
Other Crafty adventures
Acquisitions
Somer
Katie
Events
DFW Fiber Fest – Somer will be there for a while on Friday
Reading & Watching
Somer
Reading

Ready Player One by Ernest Cline

Watching

Bright Star musical

Love, Simon
Katie
Read Beyond Scandal and Desire by Lorraine Heath. Historical romance – 3 stars.

Started Ready Player One by Ernest Cline.  It is on hold until I sort out my feelings about this book.

Reading Between the Devil and the Duke by Kelly Bowen. Historical romance.

Up next is Wicked Deep by Shea Earnshaw — YA paranormal and witches
In the Kitchen
Baking

Double Ginger Crumb Cookies

Lemon Cookie Cups with a lemon buttercream

Non baking