Podcast: Play in new window | Download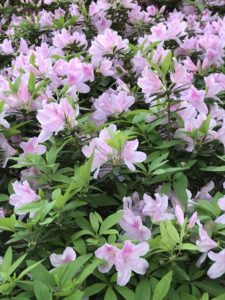 FOs
Somer

Spinning

Elemental Fiber Works targhee/bamboo/silk in "Kepler 16-b"

Elemental Fiber Works BFL/silk in "First Exoplanet"
Active WIPS
Somer

Knitting

Quaker Lines

by Susan Ashcroft in handspun Three Waters Farm Rambouillet in "Birds in the Holly"

Spinning

2 Guys Yarn Wensleydale in "Shortcake"

Katie

Bankhead hat

by Susie Gourlay in malabrigo worsted in hummingbird

Crochet temperature blanket – granny squares – each round is a day, so 52 squares. Will make 4 extra squares to have 56 – 7×8. I am using a box store worsted in 8 colors.
Other Crafty adventures
Acquisitiions
Somer

Leading Men Fiber Arts "Starting Point," "Only Have Eyes for You," and "Twilight Sparkle"

Suburban Stitcher "Slate Blue"

Woolen Boon

Katie

Suburban Stitcher trunk show

Fiber from Rock and String Creations

Portable yarn bowl from Lone Star Arts
Reading & Watching
In the Kitchen
Baking (all recipes from

Dorie's Cookies

)

White Chocolate-Lavender Sablés

Kamish

Peanut Butter Changeups