Podcast: Play in new window | Download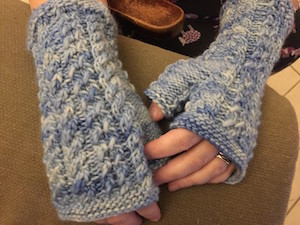 Active WIPS
Katie

Ballydesmond mitts

by Irish Girlie Knits using Malabrigo rios in teal feather. I am leading the KAL over the Malabrigo group for MalMarch.

The Age of Brass and Steam

by Orange Flower Yarn using malabrigo silky merino in the Atardecer colorway (blues and purples like a watercolor)
Somer





Knitting

Hitofude

by Hiroko Fukatsu with Miss Babs Katahdin in Ivys (paid pattern, 200 yen, less than $2)
Cawl Me

by Allie Coffey in Cakewalk Yarns in the Peppermint Bark colorway (paid pattern, $4.50)
 Spinning
Three Waters Farm Rambouillet in Birds in the Holly (December top of the month club)

Rolags from BlueBarnFiber: bamboo, angelina, firestar in the Starry Night colorway
Recent FOs
Katie

RVA hat by Karen Troyer Ladman was a test knit.  I'm used malabrigo merino worsted in pearl.

Lambing Mitts by Veronika Jobe

using malabrigo twist in green gray

Somer

Brancusi

mitts by NellKnits with Malabrigo Worsted in Blue Surf (paid pattern, $6)

2 Knit Lit Chicks swap project – details to come

Slipped Ridge

hat by Woolly Wormhead in Madelinetosh Tosh DK in Modern Fair Isle (paid pattern, $6)

Three Waters Farm Finn in Bright Open Sky (blues, reds, wine, kind of a very light tan (almost looks natural), brown) (November top of the month club)

Non-knitting adventures:

dyed 2 skeins of yarn

Photography

Casting on soon!
Acquisitions
Katie

Sock yarn from

Spun Right Round

– Superwash Sock 80/20 (2 skeins) and Snappy Socks
Events
Yellow Rose Fiber Fiesta

, April 15-16, 2016 in Seguin, Texas (Katie & Somer will be there April 16)

Houston Fiber Fest

, June 24-25, 2015 in Cypress, Texas (Katie will likely be there June 24; Somer & Darcy will likely be there June 25)

Into the Wool Fiber Retreat, September 1-4, 2016 in Crossville, TN (Somer & Katie will be there)
Non-knitting related:
Texas Library Association conference – any listeners going to be there?

Somer will be in Indianapolis in mid-May – suggestions for yarn shops or restaurants in the downtown area
In the Kitchen
Reading & Watching
Katie

Finished reading

Night Study

by Maria V. Snyder (part of the Study/Soulfinders series which began with Poison Study)

Currently reading

These Shallow Graves

by Jennifer Donnelly – YA historical fiction with a mystery and a little romance
Somer

Finished

Revolver

by Marcus Sedgwick

Finished

Beacon 23

by Hugh Howey

Finished

Endangered Species

by Nevada Barr

Watching

Gilmore Girls

The Bridge of Spies

The Magicians

11/22/63
If you'd like to get in touch with us, you can find us on Ravelry (links to profiles to the left) or email us at kitchenstitchespodcast@gmail.com.