Podcast: Play in new window | Download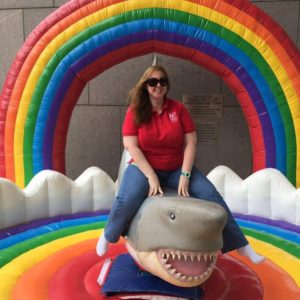 Special thanks to Denise Hudson for the awesome theme music!
FOs
One Love by Susan B. Anderson using handspun Twist Fiber Studio in Clown College
Dragonflies Hat by Joji Locatelli using Madelinetosh Tosh DK in Baroque Violet
Spinning
Batt from Uniquely Yours (Patchwork, lots of sparkle!)
Batt from KnitSpinFarm (Winter Rose)
Active WIPS
Harvest

by Tincanknits using Blue Moon Fiber Arts Targhee Worsted in Hot Rod Red

Hermione's Everyday Socks

using Gale's Art watermelon sock blank

Generic cowl using

White Birch Fiber Arts

in Nothing Says Screw You Like a Rainbow – am likely going to rip this out and eventually use it for socks
Spinning
Rock and String Creations

"Mine of the Seven Dwarves" in Superwash BFL (will ply this was another braid of Rock and String Creations in "Denim")
Darcy

Vanilla socks using Savvy Skeins in Jekyll and Hyde

Lester

– Houston Fiber Fest knitalong
Casting on soon!
Katie

Paddle Mitts

by Tin Can Knits using Madtosh Dk Twist in Nassau Blue

Gather

by Tin Can Knits using Daizie Knits Dewy DK in Purple
Acquisitions
Somer

Undead Yarn

"Midnight Graveyard" on the Twilight base (fingering with sparkle)

Wonderland Yarns "Messenger Kit" – 516 yards "Mad Hatter" sportweight, one larger skein of dark gray, 2 smaller skeins of lighter gray. Enough to make either the shawl, 2 hats, or a hat and pair of mitts

Mimi Hand Dyed 100% Mink in "Flamenco"
Events
Comicpalooza

, June 17-19, Houston George R. Brown Convention Center

Houston Fiber Fest

, June 24-25, 2015 in Cypress, Texas

Into the Wool Fiber Retreat, September 1-4, 2016 in Crossville, TN (Somer & Katie will be there)
Summer Reading KAL
For full details see the Ravelry group, but here are the basics.
The Summer Reading KAL will run from June 1 – September 30.
WIPs count.
Categories
Short story – projects 50-100 yards
Novel – projects 100-400 yards
Chunkster – projects 400+ yards
Boxed set – multiple projects that together equal at least 50 yards – perfect for sock yarn squares, hexipuffs, washcloths, bookmarks, etc.
Chatter thread – if you don't want to bother with measuring yardage, just post in the chatter thread.
Cookbook club – we'll vote on a cookbook/website each month and make/review recipes from it. This will likely be an ongoing thread after the KAL. Poll is up in the group to choose the first book/site and voting will be available through June 15 and we'll cook from the winner through July. Voting for August's selection will open in mid-July.
We'll have prizes for, at the least, the chatter thread and each of the yardage threads. Specific prizes will be posted once we've decided. If you would like to donate a prize, you can email us at kitchenstitchespodcast@gmail.com or PM someryarns, kayteebe, or slightlyfoxed on Ravelry.
In the Kitchen
Somer

Happy news is that my ovens weren't broken after all! Scary part is that a short in an outlet in the dining room seemed to be the culprit.

Yellow cake with mocha buttercream frosting

Dining in Indianapolis
Reading & Watching
Katie

Finished reading

Winner's Kiss

by Marie Rutkoski (YA)

Finished reading

Suddenly You

by Lisa Kleypas (historical romance)

Currently reading

The Weekenders

by Mary Kay Andrews (contemporary fiction/romance with a mystery)
Darcy

Reading

Dune

by Frank Herbert